Pin It
Hi there, Katie's friends and followers! I'm Amy, aka One Artsy Mama, and I'm excited to be here today to participate in: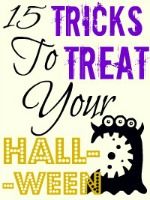 With a little paint, a little felt, and some imagination, we came up with our 2012 version of a:


- felt container from the dollar section
- orange and green felt
- orange and black fabric paint
- scissors and craft glue
- empty paper towel roll
I cut the shapes from orange and green felt and LC glued them together. Then, he dipped the end of a paint pen and a fabric marker into black fabric paint to make the eyes and nose. I freehanded the smile.

Ahem, on to step 3.


Ta-da! All ready to be eaten, and fun to look at too.

One Artsy Mama
to say hello and see some more of our fun
Fall and Halloween related projects.
I also co-host a regular link party each Friday and a special Pumpkin themed party too where you can share your own creations with me! I love to gain and share inspiration.
Happy Crafting!
Amy is so cute and lots of fun! She also runs lots of great tips on her blog, including her expanding Grow Your Blog Series. Make sure you stop to check it out!


Pin It