Pin It
Sooo, how was your week? Mine went pretty good. I did a little bargain shopping yesterday and found some great stuff on sale at Target and Marshalls. After I finish my Spring/Easter crafts my next big undertaking is getting organized. We'll see how that goes!
So on Friday night the Hubster and I were jonesin for something sweet and there was a simple little recipe that I had been wanting to try, so I ran to the store real quick to grab the TWO ingredients I needed. Yes, you read that correctly.
What other word is there to describe two classics coming together other than, GLORIOUS. Yes, these were glorious. My husband even had them with some milk for a little midnight snack. I originally found these
here,
and they have a recipe for chocolate chip cookie dough that they used. I, however, was feeling a little lazy so I turned to one of my favorite quickies. Pillsbury's premade refrigerated chocolate chip cookie dough. Yum-my.
Oreo Stuffed Chocolate Chip Cookies:
Premade Refrigerated Chocolate Chip Cookie Dough
Oreos
Preheat the oven to 350 degrees Fahrenheit. Take an Oreo, and two pieces of the cookie dough, and flatten and mold it around the Oreo.
Once you've done as many as you want to do, place them on a cookie sheet lined with foil, and pop them in the oven for 9-13 minutes. I baked mine for 11.
Yuuuuummmmmyyy.... Once they're done, let them cool (if you can hold out that long!) and then move them to a plate to enjoy. These were incredible while they were still warm because the cream in the middle was extra gooey.
I know your mouth is watering, so run to the store and get the ingredients now!
I hope you have a great rest of your Savory Sunday!
Linking up Here: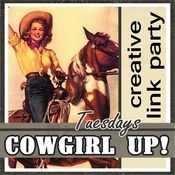 Pin It