Pin It
So the other night I was just kinda loafing around my house and I got the itch to make something. You know what I'm talking about? I didn't know what it was gonna be, and I didn't even really have a need or a spot for anything new, but I needed to make something. I had had this hankering... An idea forming in the back of my mind I guess, and it all came to fruition, like, bam! And so I got to work gathering my materials... And this is what I came up with....
A $5 frame from Wal-Mart that I got on sale for $2.50 a while back, an old t-shirt, some fabric, and some batting, which I actually ended up not using.
What am I gonna make out of that? Well you're just gonna have to wait and see...
Materials Needed:
A large frame
Fabric of choice
An old t-shirt (any color to match your fabric)
Hot glue and glue
Scissors
Embellishment Button
Now here's what you're gonna do. Cut your t-shirt up the sides, and cut off the sleeves. This is what it should look like:
One giant flap. Now you're gonna cut it up the middle, but not all the way though. You will leave the last little bit attached, so that you have one long strip basically.
Now take one end of the long strip and tie a small knot. Put some hot glue on the knot and then start twisting and folding the fabric. Continue to twist and fold all the way around, putting dots of glue along the way. Fabric is easy to work with so you can kind of tuck and fold the fabric until you get the look you want. Have you guessed what it is that I made now?
Well a rosette of course! What else? I know, I know, I'm a rosette making fool. Can't help it. I twisted and tucked and glued until I had what I wanted. I even had to pull a little piece out to cover up the red print from the tag that was showing through. Can't have that ruining my beautiful white rosette.
Next you're going to cut your fabric to fit the frame you chose, leaving a little fabric to fold over the edges and glue down. I just used the glass and glued the fabric straight on.
Pull it tight while you're gluing it down so you don't have any ripples. As you can see, I have a few small ones. But luckily you can't really see them once I got the rosette attached and the whole thing hung on the wall...
Next is attaching your rosette to the middle of your frame. I put a big glob of glue down on the middle of the rosette and then pressed it down where I wanted it to go and held it there for a bit. Then I lifted the edges of the rosette a tad and put glue all around the edges so that it was good and adhered securely. Lastly, glue on your button embellishment to the middle of the rosette, and then voila! Doneskies!
There! Finally, a picture of the finished product! Did I hold you in suspense?! I was thrilled with the way it turned out.
It turned out exactly the way I had envisioned. Don't you just love when that happens?
So what do you think? If you saw this would you know that it was made out of an old t-shirt and super cheap frame? My fave kind of project.
Have a great weekend!
Until Next Time.....
{Katie}
Linking Up Here:
Monday:
Tuesday: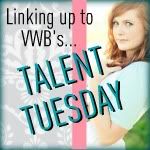 Wednesday: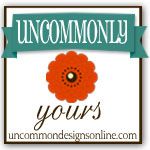 Thursday: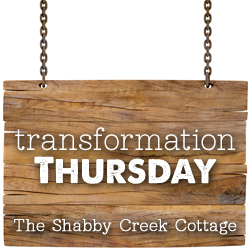 Friday: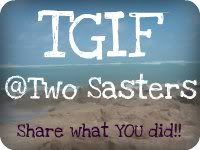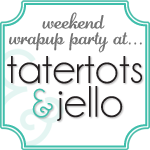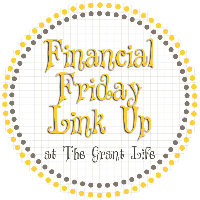 Sunday
Pin It