Pin It
I love pizza. I admit it. That's step one right? Between pizza and mexican food, I could be a happy camper. So when I saw
this
on
Pinterest,
I had to make it. Now, she used actual pizza dough... But I did not. Because I didn't have any on hand. What I did use was biscuits. I bought a 4 pack of Pillsbury biscuits one day, and then they sat in the fridge. And now I know why.... They were destined to be used for this.
Oooohhhh, yeaaahhh. During this "Spending Cleanse" Month that we're having, I am trying to be inventive so that we don't feel deprived, and also find filling and cheap meals to make. Well let me tell you, this is both. Some friends of ours stopped by, so I needed something that we could snack on while we were hanging out and talking. This is super easy to make, but a tad tedious.
What you'll need:
4 cans of 8 Biscuits
1 bag of pepperonis
Mozzarella Cheese
Sauce for dipping
1/4 cup butter
1/2 Tblspn. minced garlic
Open one can of biscuits at a time. Cut each biscuit in half and then press out the dough with your fingers. It just needs to be big enough to put a pepperoni in the middle.
Place one pepperoni and a slice of mozzarella cheese in the middle. I just cut slices off of a block of mozzarella I had, but shredded would also work just fine. Then fold the dough up over the pepperoni and cheese to form a little ball. Then just start placing the balls of dough in your greased bundt pan, in no particular manner.
I also whipped up some garlic butter to drizzle over the bread. Once I got a layer down, I drizzled some butter over it, and then used the back of the spoon to spread it over the dough a tad. All you need to do to make it is soften 1/4 cup butter in the microwave. Then add the 1/2 a Tbl spn. of garlic in and mix. Finish melting the butter and garlic in the microwave, and voila! Garlic Butter!
Once you get all of the pizza dough balls in your bundt pan, you're ready to put it in the oven! Bake at 350 degrees Fahrenheit, for about 30-40 minutes. When I took mine out the first time, the biscuits on the bottom were still pretty doughy, so I popped it back in the oven for ten more minutes, and we were good to go. Then just serve it up with your favorite pizza sauce, and ennnnjoooy!
I hope you liked this fun little recipe! Let me know how it turns out!

Linking Up Here:
Monday:
Tuesday: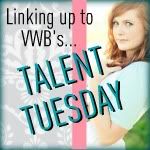 Wednesday: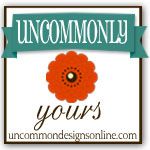 Friday: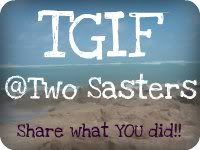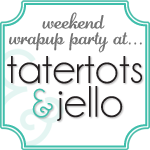 Sunday
Pin It