Pin It
I am so excited to be here posting at Katie {Did} It for the 15 Tricks to Treat Your Halloween Series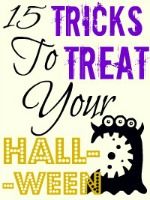 Make sure that you check out all the great Halloween posts. Everyone has been posting some great ideas for decorating for Halloween and some yummy treats for Halloween parties!! Thank you Katie for inviting me over to your blog and asking me to be a part of your Halloween series. I feel honored to be posting with all of these great bloggers.
I am a wife to my wonderful husband and a mother to my 1 year old son. I like to blog about cooking and love food! My blog is about cooking easy, good food, using shortcuts and timesavers. I also host a weekly link party, Showcase Your Talent Thursday. I hope that you stop by and visit.
When I was a kid I always looked forward to Halloween. Now that I am a mother, I look forward to my son's excitement for Halloween. I always loved dressing up and all the parties. My favorite part of Halloween is the candy and the food at Halloween parties. If you have ever read my blog this should be no surprise to you, because my favorite part of everything is food.
Another thing that I associate with Halloween is pumpkins. I always carved pumpkins when I was a kid for Halloween. These Pumpkin Pie Muddy Buddies or Puppy Chow are a great combination of the candy and pumpkins of Halloween. These are a great treat to serve at Halloween parties.
These Muddy Buddies are made using Pumpkin Spice Hershey Kisses. I also decided to add some graham cracker crumbs to the powdered sugar to give the muddy buddies the addition of the flavor of a graham cracker crust. These tasting amazing!! I loved the pumpkin flavor, which was not overwhelming at all. I could not stop eating these. I also sent some to my husband's work, where they were also quickly devoured. I hope that you make this delicious and easy treat to serve at your Halloween parties!
Pumpkin Pie Muddy Buddies
5 cups rice Chex cereal
1 bag (10 ounces) Pumpkin Spice Hershey Kisses, melted
1 1/2 cups powdered sugar
1/2 cup graham cracker crumbs
1. Add the powdered sugar and graham cracker crumbs to a plastic bag and mix together.
2. Put the Chex cereal in a large bowl.
3. Melt the Pumpkin Spice Hershey Kisses in the microwave for 45 seconds and stir until smooth. If not melted, microwave for additional 15 second increments until melted and smooth.
4. Pour the melted Pumpkin Spice Hershey Kisses over the Chex cereal and mix until the cereal is coated. Add the cereal to the plastic bag with the powdered sugar mixture and shake until the cereal is completely covered.
*Alyssa*
Thank you so much to Katie for allowing me to guest post!
YUM! I cannot wait to make these! Delish! Stop over at Alyssa's to check out other fabulous recipes and to take part in her fun party every week!

Pin It